About Us:

You can contact us about puppies, the first step is to complete an on line application.  If you do not hear back from us within a week please contact us at GaffleBullmastiffs@gmail.com t as we make efforts to respond to each and every application and inquiry we receive.  Please visit our upcoming litter page for information on our dogs and our puppies. 


Credentials:
 
Member of the Cambridge Kennel Club, Midwest Bullmastiff Fanciers & American Bullmastiff Association.
Served on the Board of Directors and held committee positions for all three organizations.
Judged sweepstakes at NationL and Regional Specialty. Held officer and show chair positions for our local Kennel Club.
Breeder, owner &/or handler of National and Regional Specialty Winners.
Real jobs pay for this expensive hobby.  Kathy is a CPA and a CISA and works in the financial services industry.

Kathy is an AKC Approved Breeder of Merit and has owned bullmastiffs since 1988.  She started with a pet quality bullmastiffs initially, and her first AKC show dogs were Bulldogs.  Kathy attributes many of her priciples to one of the all time greatest Breeder-Owner-Handlers of Bulldogs, Karl and Joyce Dingman. She learned ethical guidance from Karl and Joyce and with their local bulldog club involvement. Even today, when mentoring others Kathy refers to the teachings from Karl as "my old bulldog mentor would say..."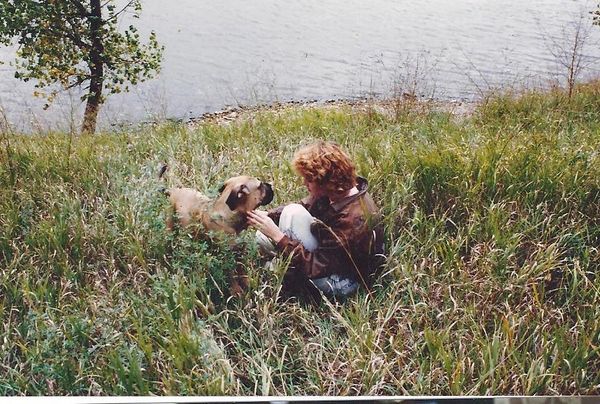 Mentor Karl Dingman showing Frigate