Welcome
Overview: 
Kathy Gladen, is Gaffle Bullmastiffs.  Est.. in 1988, we reside in Ham Lake, Minnesota.  Breeding the finest quality bullmastiffs for over 20+ years.  To date 50+ AKC champions with 150+ AKC titles mainly all owner-handled.  We are a small hobby kennel and do not make money on our dogs / puppies.  Prenatal all the way to your home; we work hard and spend resources on our dogs in order to provide the best puppy for your family.  We proudly call our dogs our family members as well as your family members!  When you buy a Gaffle Bullmastiff puppy you are becoming part of our family.  Welcome to the family!
We prefer to place our dogs in pet homes on spay / neuter contracts.  Our breedings are selected to improve the breed balancing health, temperament, life-longevity and beauty.  Health is guaranteed as part of the contract.
Expectations:
Gaffle puppies cost $3,500 which does not even cover the expenses for raising a well-bred well-cared for puppy.  I do not make any profit from breeding bullmastiffs, this is my hobby and my passion, not my job.  

I place dogs with individuals and families that love their dogs and include them as members of their family.  We prefer pet homes.  Not all puppies need to be shown, but we do encourage our pet homes to recognize the great social benefit that does occur by becoming involved working with the breeder to get the dogs championship.  Showing is never a requirement.  We place dogs in homes that want to become part of our extended family.

We require application, interview, & reference checks.  Homes that purchase dogs from my line represent my reputation and are an extension of my dog family.  Training helps ensure successful socialization for the dog and owner to ensure good citizens.  Accordingly require completion of 3 basic training classes, including puppy kindergarten.  Owning a Gaffle puppy means you are now an ambassador for the breed because you will be stopped for petting and telling you how beautiful your dog is!

BE CAUTIOUS OF "FOR PROFIT" BREEDERS!  A puppy shipped in from a backyard breeder or a "storefront" internet site or even purchased from a pet store might be less expensive, but you don't know how those puppies are really raised, where the parents live, or how they are cared for.  Your dollar supports them and encourages them to continue breeding.  They often SAY their dogs are "health tested" but what does that mean?  They need to have certifications which should be public on the OFA.org webpage for both parents.  The seller can tell you anything or show you pictures of anything -  but do they care what happens with the puppy once that puppy is gone and they have your money?  Who suffers when the puppy comes down with crippling hip or elbow dysplasia or other lack of training issues or problems - where do you turn - does the backyard breeder know or even care? Those backyard breeders don't guarantee health, or provide lifetime support to the owners.  Just because they are AKC registered, does NOT assure the puppies are healthy and well bred.

I have heard that sad story many times - the owners wished they didn't buy from the backyard breeder/internet breeder/pet store, they now don't know what to do and the puppy / dog end up costing them high vet bills or has other problems.  They vow to find a good reputable American Bullmastiff Association member or AKC Breeder of Merit for their next pup.   
A bullmastiff is not for everyone; they are a working guardian breed with specific training, socialization and nutritional needs.  We will only consider placing puppies in homes that are committed to meeting those needs for the life of the dog.

We recognize not everyone comes to us with full knowledge of bullmastiffs - you can see we work very hard to get owners started on the right foot.

RESCUE:  If you are torn about buying a puppy or helping rescue a bullmastiff - please consider both a donation to Bullmastiff Rescuers Incorporated or ABARS rescue as well!  There are many deserving dogs in need of wonderful forever homes ! 

Please see the ABARS Link if you are interested in a wonderful pre-screened Rescue  http://www.bullmastiff.us/rescue.html

Please visit the fully tax deductible Bullmastiff Rescue (Donations allowed thru many employers annual programs!)
http://www.bullmastiffrescuers.org   - BRI is a 501(c)(3) organization.

 
Kathy's first bullmastiff late 80's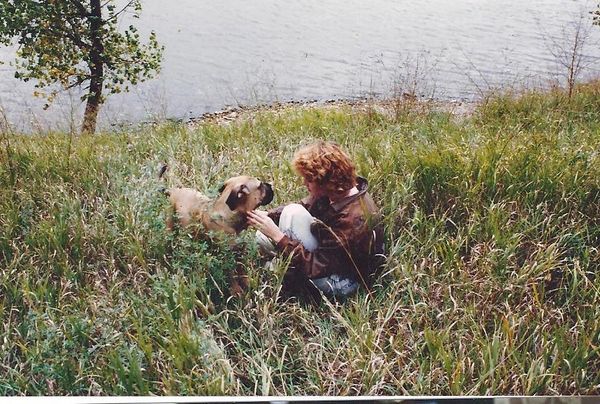 Our Bulldog & Bullmastiff early 90's